Lizard

Details

Type
Land Creature
Health
10
Biome Spawns
Daytime

Desert, DesertHills, Jungle, JungleHills and River

Rarity
Common
Drops
Bones
Breedable
Yes
Tameable
No
Custom Sounds
No
Species
3
Lizards are passive land creatures that are most commonly found in deserts. Their behaviour is that of any normal minecraft animal. They can be bred for a Bone farm. The player can lure Lizards by holding a Spider Eye.
Lizards have 3 species which all actually represent different animals. Their species depend on where they spawn.
Lizard, spawns when the conditions of the other 2 species aren't met.
Gecko, spawns when near Grass blocks.
Gila Monster, spawns when near Water.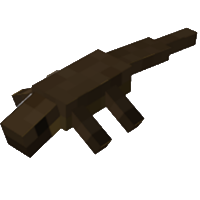 Bug: Breeding Lizards can result into a different species when the conditions are met.